We'll walk you step by step through the
process to download and setup PhunWallet as well as how to buy PhunToken.
Getting started:
Downloading the App
PhunWallet App
Onboarding PhunWallet Generation
Copying your Ethereum address key
Purchasing PhunToken on the Buy Portal
PhunWallet App Onboarding
1
Upon launch you'll need to read through and accept the EULA to continue; select Accept to continue.
2
You can then swipe through the next three screens that explain the value of the application. Swipe over twice and select the Start button.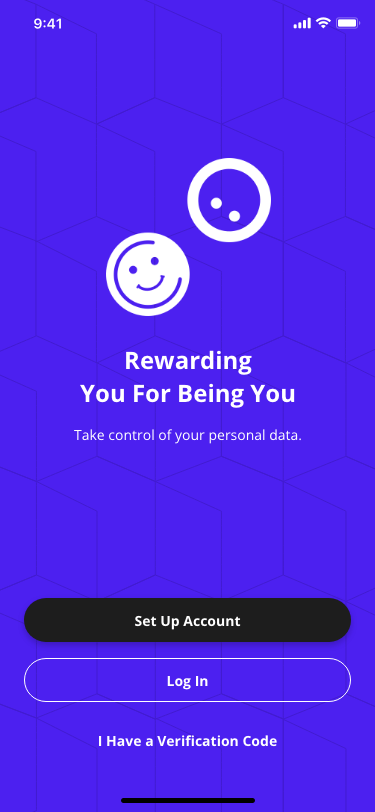 PhunWallet Generation
1
Please review the Privacy Acknowledgement and selectProtect My PhunWallet. Then you will be asked to create a 4-digit PIN and confirm your PIN. Select Set PIN once you have entered your PIN in for confirmation.
2
In order to generate your PhunWallet, you will need a 24-word password phrase. This is used to recover your account in the case you switch or lose your phone.
IMPORTANT: You must write this down and keep it somewheresecure.
3
Check off the acknowledgement that you will need to write the phrase down and tap Generate Phrase to continue.
4
Your 24 word seed phrase will be displayed to you. Write down each word in the order they are presented to you on a piece of paper. You can select each word to highlight them as you go, so you don't miss any words. Once you have written down and highlighted all the words on the screen, you can select I'm Done.
5
You will be asked to confirm one of the words from your seed phrase to ensure everything was written down correctly. Enter in the requested word and continue through your keyboard to complete the setup.
6
Make sure you store the seed phrase you wrote down in a secure place.
We cannot help you recover your wallet without these 24 words that are unique to you.
7
You will be prompted to accept a few permissions. We strongly recommend you accept the Notification permissions so you will receive messages on upcoming engagement opportunities to earn additional tokens. We also recommend you accept the Location permission so we can send you location-specific announcements and opportunities near you.
Copying Your Wallet Ethereum Address
1
Now that your wallet has been generated, you can tap on thewallet icon in the bottom right to be taken to your PhunWallet view.
2
At the bottom of your wallet view, your Ethereum (ETH) address key will be displayed. You can tap on the copy icon on the right to copy this address to your phone's clipboard.
3
Paste this address key to a place where you can access it on the web.
Buy PhunToken Portal
If you would rather follow a step-by-step checklist, follow the steps below:
2
After completing registration, please log in and complete your KYC by clicking the KYC Verification button. Please allow a few minutes for the KYC confirmation to complete.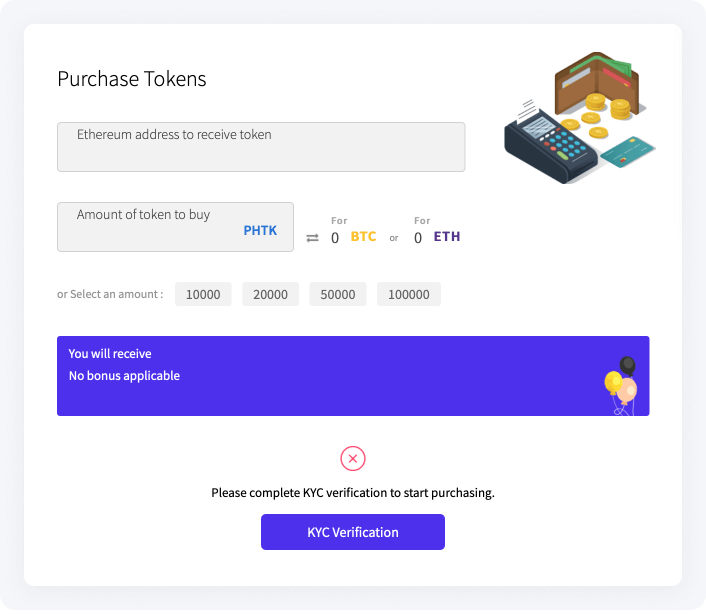 3
Please make note of your Referral Link which you can share to receive additional PhunToken for each person you refer that completes a purchase.
4
Enter your PhunWallet ETH address where you would like to receive your PhunToken (PHTK). If you generated a PhunWallet, this is where you can paste in the ETH address you copied from the app. If you are using a third party wallet, please ensure it is a non-custodial wallet that can accept custom ERC-20 Tokens. Do NOT use an exchange address from Coinbase or others or you can potentially lose your tokens. If you have any questions as to whether your wallet is supported please email [email protected]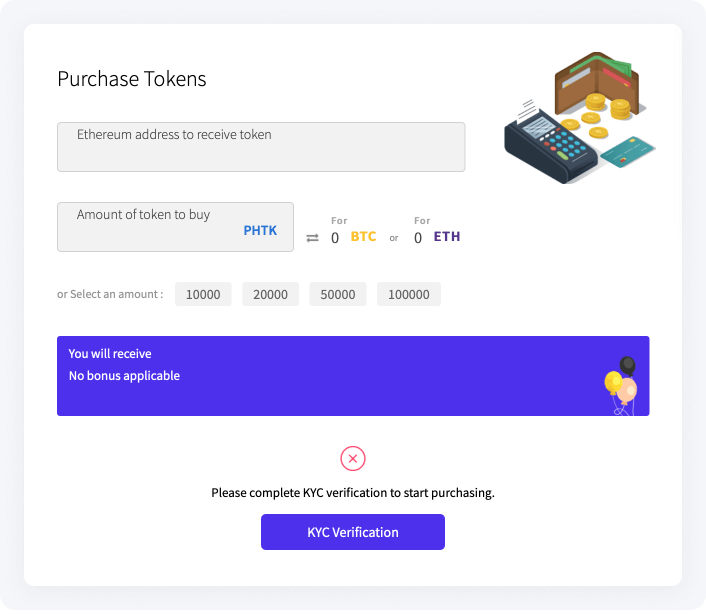 5
Select how many PHTK you would like to purchase. The minimum purchase amount is 10,000 PHTK ($100 USD).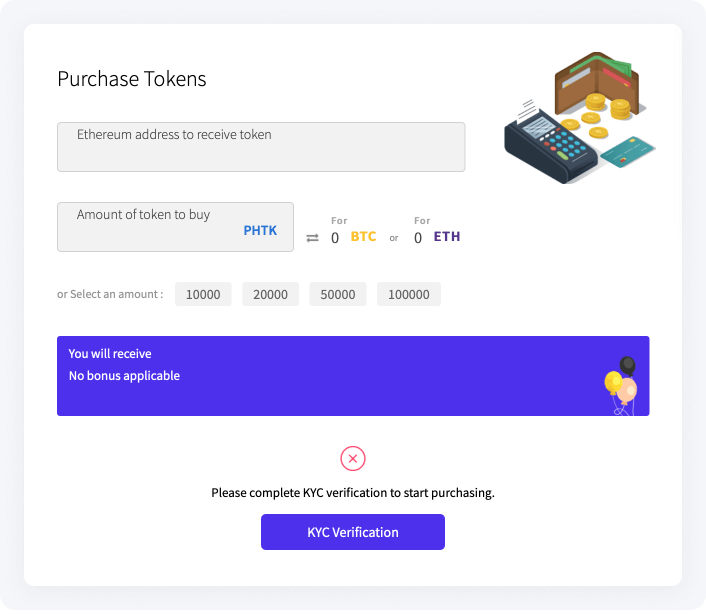 6
Select your payment method, and click on one of the payment sections. The following payment methods are accepted: Ethereum (ETH), Bitcoin (BTC) and USD wire transfers.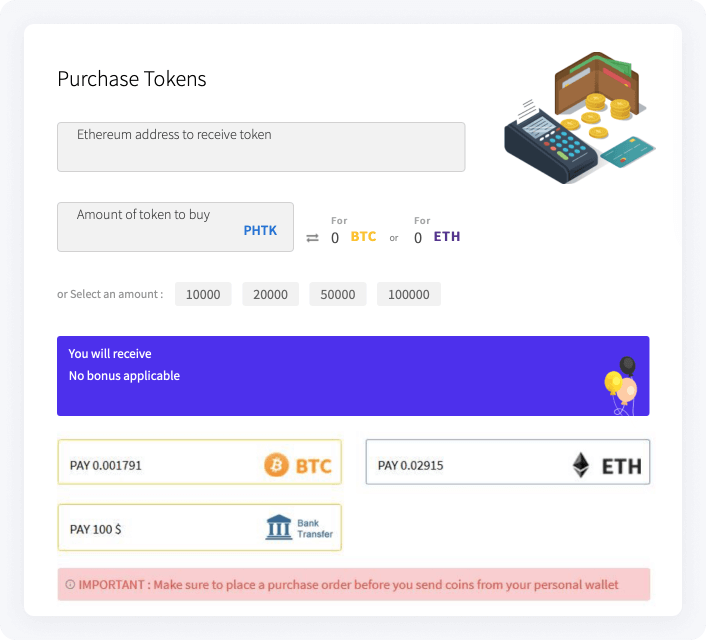 7
Depending on your payment method of choice, you will be given detailed instructions on how to submit your payment. Once payment is received, please allow 24-48 hours for your PHTK to be distributed. You will receive an email from [email protected] with status updates.
8
Once distributed, you will be able to confirm receipt by going to the wallet view of the PhunWallet app and seeing the new PhunToken value.